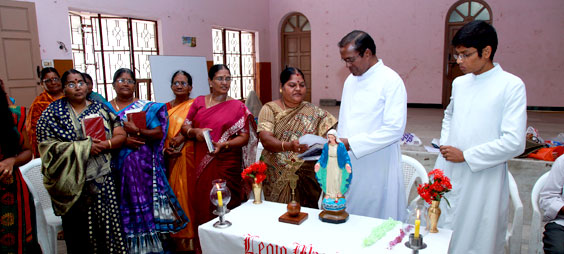 In the cathedral parish the Legion of Mary was started on 4-5-1944 by Fr.R.Ambrose. The First presidium was named 'Mother of Good Counsel' meant for men, and followed by another presidium was started for women with the name 'Our Lady Assumed into Heaven". There was also one for the young girls with the name "Our Lady of Joy' and one for Children in the name of "Our Lady of Mercy'. There was a combined presidium named Our Lady of Assumption at NH road, and another one at Athupalam with the name "Mother most Admirable" the sub stations to Cathedral Parish.Fortunately only the Women's presidium is alive and do lots of Good works and the rest have died off. Efforts are being made to revive the men and children's presidium and it is in the making.

There are about twenty two members in this legion. They are as follows:
Mrs.Sagayamary - President
Mrs.Maria Pushpam
Mrs.Madalaimary
Mrs.M.Regina Mary
Mrs.Jebamalai Mary
Mrs.S.Regina Mary
Mrs.S.Roselin Mary
Mrs.Fathima
Mrs.Jayamary
Mrs.Virginia
Mrs.Florence
Mrs.Asuntha Mary
Mrs.Leela Magdalene
Mrs.S.Philomina
Mrs.Elizabeth
Mrs.Maria John
Mrs.Joyce
Mrs.Arul seeli
Mrs.Arokiamary
Mrs.Annakutty
Mrs.Angelin Suseela
Mrs.Sheela.