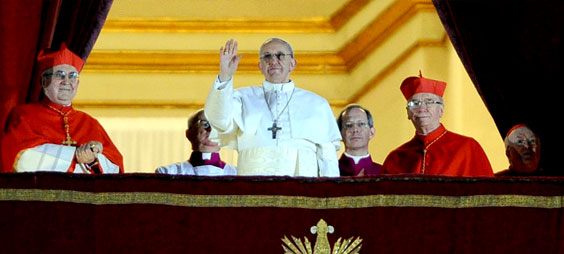 Pope Francis (Latin: Franciscus Italian: Francesco born Jorge Mario Bergoglio,[b] 17 December 1936) is the 266th and current Pope of the Catholic Church, a title he holds ex officio as Bishop of Rome, and Sovereign of the Vatican City.
Born in Buenos Aires, Argentina, Bergoglio worked briefly as a chemical technician and nightclub bouncer[2] before beginning seminary studies. He was ordained a Catholic priest in 1969 and from 1973 to 1979 was Argentina's provincial superior of the Society of Jesus. He was accused of handing two priests to the National Reorganization Process during the Dirty War, but the lawsuit was ultimately dismissed. He became the Archbishop of Buenos Aires in 1998 and was created a cardinal in 2001 by Pope John Paul II. He led the Argentine Church during the December 2001 riots in Argentina, and the administrations of Néstor Kirchner and Cristina Fernández de Kirchner considered him a political rival.&nbsp
Following the resignation of Pope Benedict XVI on 28 February 2013, a papal conclave elected Bergoglio as his successor on 13 March. He chose Francis as his papal name in honor of Saint Francis of Assisi. Francis is the first Jesuit pope, the first from the Americas, the first from the Southern Hemisphere and the first non-European pope since the Syrian Gregory III in 741.
Throughout his public life, Pope Francis has been noted for his humility, his concern for the poor, and his commitment to interfaith dialogue. He is known for having a humble approach to the papacy, less formal than his predecessors, for instance choosing to reside in the Domus Sanctae Marthae guesthouse rather than the papal apartments of the Apostolic Palace used by his predecessors. In addition, due to both his Jesuit and Ignatian aesthetic, he is known for favoring simpler vestments void of ornamentation, including refusing the traditional papal mozzetta cape upon his election, choosing silver instead of gold for his piscatory ring, and keeping the same pectoral cross he had when he was cardinal.&nbsp
He maintains that the Church should be more open and welcoming. Although he considers poverty a huge problem, he does not support unbridled capitalism, Marxism, or Marxist versions of liberation theology. Francis made the battle against global warming, consumerism, and irresponsible development a focus of his papacy with the publication of Laudato si'. The media considers him a progressive papal reformer, with a less-doctrinal tone of papacy. Despite this, Francis maintains the traditional views of the church regarding homosexuality, abortion, ordination of women, and priestly celibacy. In international diplomacy, he helped to restore full diplomatic relations between the U.S. and Cuba.
At his first audience on 16 March 2013, Francis told journalists that he had chosen the name in honor of Saint Francis of Assisi, and had done so because he was especially concerned for the well-being of the poor. He explained that, as it was becoming clear during the conclave voting that he would be elected the new bishop of Rome, the Brazilian Cardinal Cláudio Hummes had embraced him and whispered, "Don't forget the poor", which had made Bergoglio think of the saint. Bergoglio had previously expressed his admiration for St. Francis, explaining that "He brought to Christianity an idea of poverty against the luxury, pride, vanity of the civil and ecclesiastical powers of the time. He changed history."
This is the first time that a pope has been named Francis. On the day of his election, the Vatican clarified that his official papal name was "Francis", not "Francis I", i.e. no regnal number is used for him. A Vatican spokesman said that the name would become Francis I if and when there is a Francis II. It is the first time since Pope Lando's 913–914 reign that a serving pope holds a name not used by a predecessor.
Francis also said that some cardinal-electors had jokingly suggested to him that he should choose either "Adrian", since Pope Adrian VI had been a reformer of the church, or "Clement" to settle the score with Pope Clement XIV, who had suppressed the Jesuit order. In February 2014, it was reported that Bergoglio, had he been elected in 2005, would have chosen the pontifical name of "John XXIV" in honor of Pope John XXIII. It was said that he told Cardinal Francesco Marchisano: "John, I would have called myself John, like the Good Pope I would have been completely inspired by him".