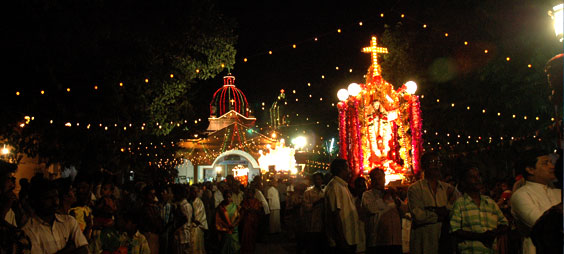 Fr. Rondy is perhaps the most famous parish priest of the Cathedral. He was born on 27-7-1848 at Lyoms in France worked in Coimbatore mission from 1873. He was Vicar General from 1891-1919 and thrice parish priest of the Cathedral (all together 22 years). He was the Council member of the Coimbatore Municipality for 23 years, and was also its first Chairman for 1 year. As a token of appreciation for his civic services, the British Government honored him with the "Kaiser-I-Hind" gold medal. In gratitude for his services, his statue was erected and also the Rondy hall in the Cathedral compound was built.
1940 was the year the club came to existence thanks to the initiative taken by Mr. I Petrom Xavier and his friends who operated the club from a small room at the Perumal Street, Fort, Coimbatore. It was true to the sense of club and was involved much in recreational activities such as Foot ball and was i9nvolved in arranging trophies at various levels. The club received the patronage of the then Bishop Most. Rev. Francis Savarimuthu and the club were given a place, a building and recognition. The activities that attract others and also make the members proud are: the members have contested in the Election of Municipal Corporation and have proved that they have wider vote bank the club decorates the Procession Car with modest to huge expense every year during the Annual feast and on Holy Thursday they conduct the Washing of the feet and feed the poor. They also support the parish by mobilizing funds for the Propagation of Faith. They were emotionally feeling gratified for making a temporary shed during the funeral service of the former Bishop Most. Rev. M. Ambrose which in face protected the people from heavy rains on that Day!

Rondy Memorial Prayer Hall:
It is situated in the church campus that was reconstructed in the year 2004 that serves the parishioners for their social celebration after the reception of sacraments, prayer services and for conducting seminars, conferences and meetings of Parish Council and such other meetings. It is a great blessing as it is the only place where we have the opportunity to come together and it needs extension urgently to accommodate the offices of the pious associations and movements within the parish.

The club inludes about sixty five members within its fold. The office bearers are as follows:
Mr.Manuel Packiyam - President
Mr.A.Yesudass - Vice President
Mr.A.Maria Joseph - Secretary
Mr.I.Peter Paul - Joint Secretary
Mr.Paul Stephen - Treasurer.