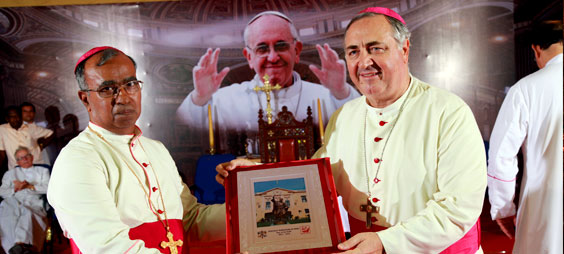 <![if gte mso 9]> <![endif]><![if gte mso 9]>&nbsp <![endif]><![if gte mso 9]> <![endif]><![if gte mso 10]> <![endif]>
Dear Sisters and brothers in Christ,
I am very much pleased to get in touch with you and evoke God's blessings on all who visit this site!
The providence of God is leading us mightily and we are grateful for all the blessings with which we are able to see the Cathedral being built. If God wills we will have the inauguration within a year and I seek all your prayers, cooperation and involvement. &nbspThe Cathedral built as a place of worship and to the Glory of God should evoke a sense of awe, a sense of holy, and a sense of another world.&nbsp The diocese is trying amidst financial difficulties to make it a place where you feel the presence of God.
The challenge now we face today apart from the financial one is to build on the faith foundation laid by the missionaries and others and to foster collaboration and shared responsibility in planning for the future of our Church. We need to discern the will of God at this present generation and wisely use all the manifold gifts which the Spirit pours on the Church in this Year of Mercy.&nbsp Here the responsibility of the Lay faithful and the religious should be valued and appreciated.
I am pleased to offer my prayers and blessings on all who come forward to share their mite, offer prayers and willingly take part in Rebuilding the Cathedral.
<![if gte mso 9]>
<![endif]><![if gte mso 9]>
<![endif]><![if gte mso 9]>
<![endif]><![if gte mso 10]> <![endif]>
&nbsp
Bishop Thomas Aquinas
Diocese of Coimbatore